The smiths Best...
The Smiths fue una banda de Indie rock formada en Manchester, Inglaterra en 1982 por el cantante Morrissey y el guitarrista Johnny Marr. La banda disfrutó de un éxito considerable hasta su separación en 1987. Su música ha sido de gran influencia en la música indie britanica, y en los '90, una gran influencia para el Britpop.
Dos de las cosas más notables del grupo fueron su polémico cantante con sus no menos polémicas letras y la música compuesta por Marr, que devolvía la guitarra al frente de la banda en una época en la que el techno pop gozaba de gran salud en las listas de éxitos inglesas. La música de la banda se nutría de influencias de rock de los 60 y 70, especialmente del rockabilly y del glam rock.
(wiki)
Volumen 1
2. William, It Was Really Nothing
3. What Difference Does It Make?
4. Stop Me If You Think You've Heard This One Before
5. Girlfriend In A Coma
6. Half A Person
7. Rubber Ring (edited)
8. How Soon Is Now?
9. Hand In Glove
10. Shoplifters of the World Unite
11. Sheila Take A Bow
12. Some Girls Are Bigger Than Others
13. Panic
14. Please Please Please Let Me Get What I Want
BAJAR
divshare cd1
BAJAR
rapidshare cd1
volumen 2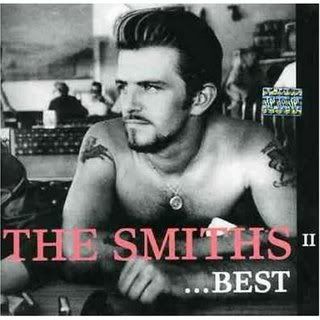 1. The Boy With The Thorn In His Side
2. The Headmaster Ritual
3. Heaven Knows I'm Miserable Now
4. Ask
5. Oscillate Wildly
6. Nowhere Fast
7. Still Ill
8. Bigmouth Strikes Again
9. That Joke Isn't Funny Anymore
10. Shakespeare's Sister
11. Girl Afraid
12. Reel Around The Fountain
13. Last Night I Dreamt That Somebody Loved Me
14. There Is A Light That Never Goes Out
BAJAR
divshare cd 2
BAJAR
rapidshare cd2
Etiquetas: Indie Pop, Rock Alternativo, the smiths